PROFESSOR ATUL K. SHAH www.atulkshah.co.uk
Globally renowned expert advisor and broadcaster on culture, accounting, finance, business ethics, holistic education and leadership
Press release: 10 October 2022
Billions of dollars are being reinvested in building a new 'green' economy – even when it is neo-liberal economics which has plundered nature for centuries. There is an urgent need for radical but also authentic and inclusive thinking. New research shows that positive practices of sustainable and ethical finance have been 'hiding in plain sight'.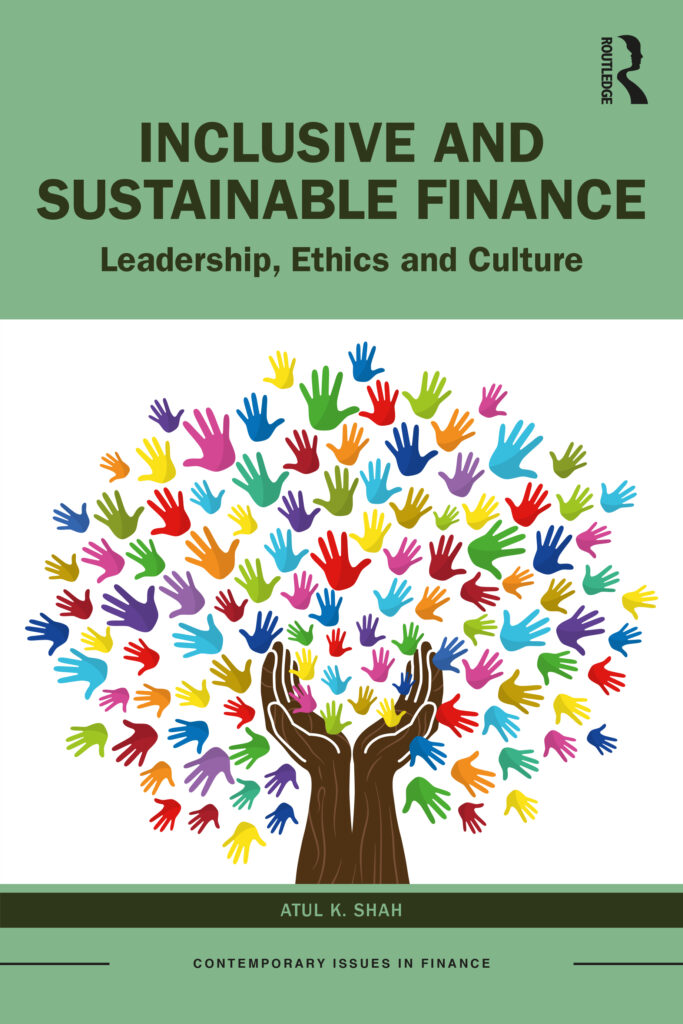 Based on interviews of business and thought leaders who practice purposeful finance with a view to long-term growth, the research shows that many ancient traditions continue to influence good practices. Writer, academic and broadcaster Professor Atul K. Shah has published this research in a new international book for Routledge entitled Inclusive and Sustainable Finance.
Given the urgency of the climate challenge, and the need to change conduct, decisions and behaviour of leaders, especially in finance, this research is very timely. Narratives and case studies draw from diverse global cultures such as the Jews, Yoruba, the Ismailis, Hindus, Jains, Catholics, Sikhs and Buddhists. Faith often builds communities of relationships and trust, and encourages leaders to act with conscience and compassion, ensuring that workers and customers are treated fairly. This is the first multi-faith research study of its kind on sustainable finance and leadership.
Author Professor Atul K. Shah explains: 'Three decades of research, community service and teaching have gone into the making of this book. The pioneering leaders profiled in the book are a small example of the thousands of such people whose stories and experiences are ignored by the modern utilitarian and technocratic approach to finance science. Despite the teaching of ethics, students often graduate by seeing ethics as transactional and irrelevant to real life – diverse cultures, beliefs and communities provide context and realism.'
Modern teaching of economics, accounting and finance has ignored faith and community, removing a key context for ethical dialogue and conduct. In its wake, we have significant and growing scandals in accounting and finance, especially in elite institutions such as the Big Four global accounting firms or investment banks.
Entire professions such as lawyers, accountants and bankers have often become enablers of financial crime and expropriation. This is unsustainable. In his book, Prof Shah shows a new way of studying and teaching finance by looking at communities of trust, and how they operate with purpose and a long-term relationship approach. It provides an important canvas to ethical debate and teaching.
The book shows that there are ancient cultures which privileged the protection of all living beings and hence had a philosophy which was not anthropocentric but respectful of animals and nature. Leaders profiled in the book work with such mindsets – their practices grow trust and relationships instead of depleting them, says Prof Shah.
FaithInvest CEO Martin Palmer has this to say about the book:
'There is only one person in the world who could write a book which roams from indigenous traditions to Christianity; from Jainism to Islam, while at the same time dismantling the myths and legends that lie behind contemporary economics. In a fascinating journey through the riches that lie just below the surface in all the great faith and cultural traditions, Professor Shah asks us to listen again to ancient wisdom which has more to say about who we are and why we need to invest in a sustainable world than any UN declaration or economist forecast. Read this and discover hidden treasures of wisdom and see a potentially radically realisable different world.'
Professor Christine Cooper, University of Edinburgh, Editor, Critical Perspectives on Accounting, says:
'This is an amazing, timely and hopeful book which directly addresses the awful mess we have made of the world and its citizens. We are threatened with extinction. Climate change is wreaking havoc across the globe, 25,000 human beings including tiny babies and small children die of hunger every day. … Atul's wonderful book not only dispels some of the myths surrounding finance, but turns the world upside down by considering ways in which finance might be reconfigured to provide some solutions to the dire mess we are in.'
Notes for editor
Inclusive and Sustainable Finance is available from Routledge, Amazon and all good bookstores. It is published on 25 October but is available to preorder now.
Professor Dr Atul Keshavji Shah is a Professor of Accounting & Finance (PhD LSE) and Fellow of the Institute of Chartered Accountants in England and Wales and is an award-winning writer and broadcaster. He has taught at the London School of Economics, University of Bristol, University of Maryland, City, University of London, Hult International Business School, Essex University, University of Suffolk and University of Kent. He is a Visiting Lecturer in the School of Policy & Global Affairs at City, University of London, London.
More information: atulkshah.co.uk/2022/06/30/sustainable-finance-pioneering-new-research/