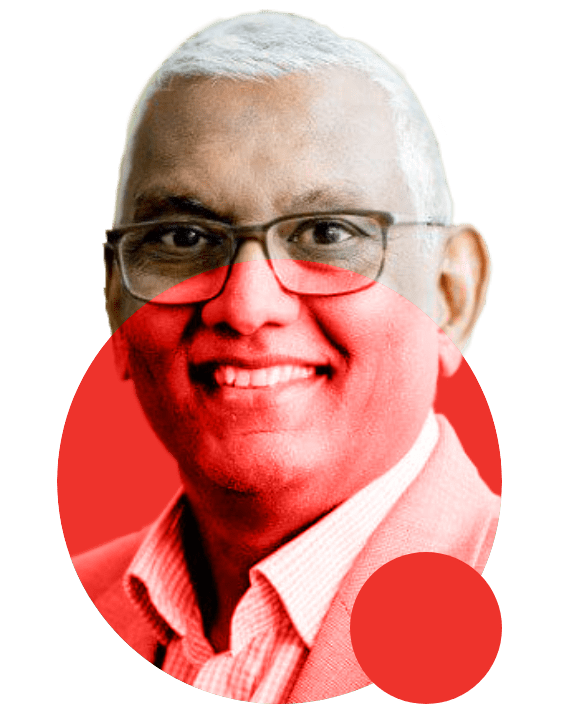 About Prof. Atul K Shah
Having a Doctorate from the London School of Economics, Professor Atul Shah is a creative pioneer in the fields of accounting, finance, leadership and diversity. He brings wide global experience and an active listening approach to business challenges, with a speaking eloquence which enthrals his students and audience, and a voice which has often been broadcast on the BBC. As author of pioneering books on banking, accounting and ethical finance, the knowledge and experience he brings is very timely for a society and planet facing a sustainability crisis. Professor Shah is inclusive and engaging in meetings, and has a wide global leadership relationship network which can be very helpful to businesses charting diverse horizons and seeking creative solutions. Photos: Courtesy of Meheer Shah
Book A Call
Testimonials
Dr. Hedley Swain

Atul is an extremely creative individual with high cultural sensitivity and an extraordinary ability to communicate and connect with people from all walks of life. A true multicultural, and a delightful, personable individual who gets things done.

Dr. Hedley Swain

Director (CEO), Brighton Pavillion

Sally Shaw MBE

Atul is a joy to work with and a completely inspirational leader. He has helped me grow and develop as an individual and a professional and has handled this sensitive role with great care and integrity.

Sally Shaw MBE

Director, Firstsite

Ian Fraser

Atul is a star. The talk he gave on the reasons for the failure of HBOS at the University of Edinburgh Business School, titled "Rogue Theory or Rogue Bank", was one of the most impressive and enlightening post mortems on the drivers of the UK banking crisis that I've attended.

Ian Fraser

Bestselling Author of 'Shredded – Insider RBS, the Bank that broke Britain.'

Professor Lawrence Gordon

Professor Atul Shah was a colleague of mine at the University of Maryland (USA) several years ago. He is very bright, hard working and an excellent teacher. In addition, he is a creative and thorough researcher. More generally, Professor Shah was a wonderful overall colleague! Indeed, I would welcome the opportunity to work with him again.

Professor Lawrence Gordon

Smith School of Business,
University of Maryland

Dr. Binna Kandola

Atul is a passionate and committed advocate of diversity. His work is epitomised by original thinking, intelligence and honesty.

Dr. Binna Kandola

Business Psychologist and
Author, Pearn Kandola

Kristine Pommert

I have known Prof. Atul Shah for many years and am extremely grateful for all he did to introduce me to the Jain diaspora and its followers in the UK, and facilitate some excellent BBC programmes on this little-known faith.

Kristine Pommert

former BBC World Service Producer

Barbara Gardner

Diverse Ethics has added real value to the RSPCA and I would recommend Prof. Atul Shah and Diverse Ethics Ltd to any organisation that needs to expand its reach.

Barbara Gardner

RSPCA Trustee

Dr Ann Limb CBE

Dr Atul Shah is a man of great spirit, enthusiasm and integrity.

Roy Clare CBE

Dr Shah has been an energetic and enthusiastic Non-Executive Director of the Museums, Libraries and Archives Council, where he has added considerable value through his ethical approaches to leadership.

Lord Prem Sikka

Professor Atul K. Shah is very articulate, a cultural visionary and author of several pioneering books on ethical accounting and finance. His thinking, research and advice is transformational for Universities and Organisations who seek to embrace sustainable development.

Lord Prem Sikka

UK House of Lords

Mira Kamdar

Atul is an extremely creative individual with high cultural sensitivity and an extraordinary ability to communicate and connect with people from all walks of life.

Mira Kamdar

Writer, New York Times and The Atlantic

Dr. Lynne Sedgmore CBE

I have known and admired Atul for over ten years. He is a dedicated professional with a wide range of leadership, financial, research and teaching experience. His work on diversity and inclusion is exemplary. He brings an ethical, wise, profound and innovative approach to the world of finance. Atul is exactly the kind of pioneering spirit the world needs right now - both challenger and refresher of our outdated paradigms.

Dr Lynne Sedgmore CBE

Education pioneer, Leadership Coach, Author

Professor Inderjeet Parmar

Ever since joining City, University of London Atul has been a generous colleague, producing prize winning research, supporting colleagues and representing us authoritatively in global media like the BBC and Financial Times. His work on cultural political economy is pioneering and highly relevant for our divided and unequal times. Atul has also always been focused on our students' learning and personal development.
Research Publications by Prof Atul K. Shah
Prof. Atul K Shah In Action
Recent Blogs
EXPERT WITNESS ON ETHICAL ACCOUNTING AT UK PARLIAMENT
When things get tough, experts protect their own interests rather than the public interest. Is this any surprise when the experts earn million pound packages and have a strong commercial orientation where the private interest and culture dominates everything? Just as the world is meeting for COP28 we have failed to resolve our basic problems […]
Read More
more blogs
Book a Discovery Session with Prof. Atul
Find Out if we are a Good Fit for You by Scheduling a Free 30-Minute Discovery Session
Connect
START A CONVERSATION WITH Prof. ATUL