PROFESSOR ATUL K. SHAH www.atulkshah.co.uk
Globally renowned expert advisor and broadcaster on culture, accounting, finance, business ethics, holistic education and leadership
LORD ANDREW PHILLIPS AND PROFESSOR ATUL SHAH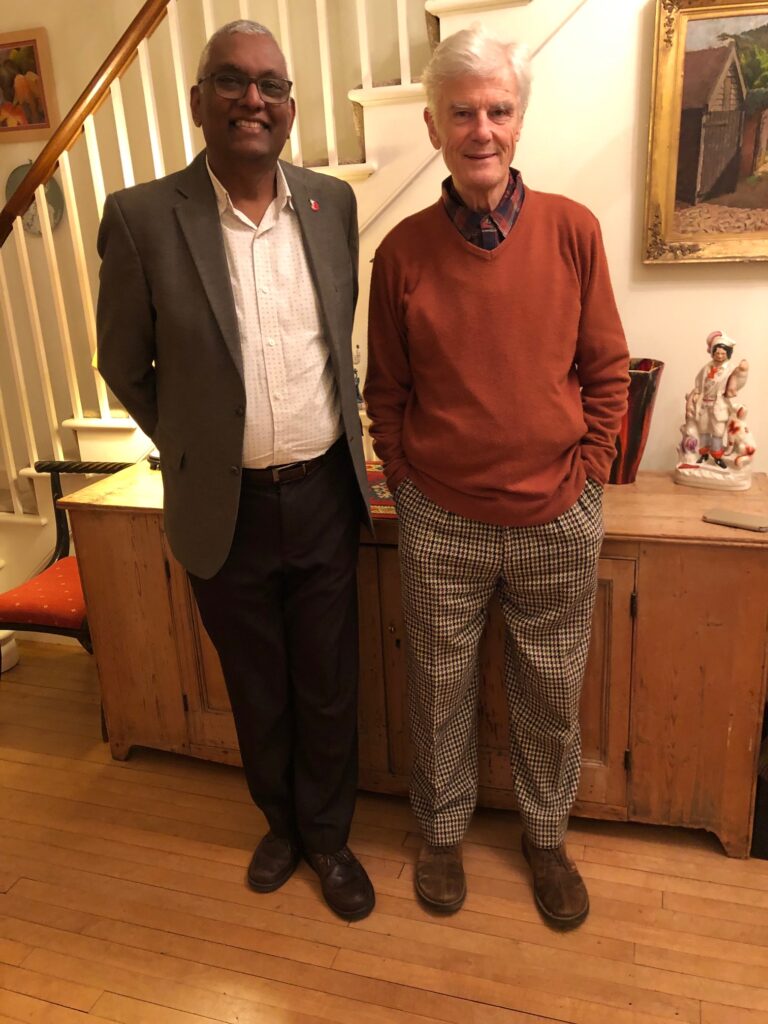 When community and faith are stripped from finance, it becomes soul-less – limits to wealth disappear, and the pain and suffering inflicted on others by business behaviour, are not 'felt' or experienced by finance leaders. This was the theme of our meeting at Lord Phillips residence in Sudbury, where he was a most generous and gracious host, and memories of growing up in a settled community were exchanged. For solicitor Lord Phillips, conscience, honour and reputation mattered a great deal. I too come from a similar community, many continents away – the Jains in Mombasa, Kenya. As a child, I experienced sharing and caring as normal activities, and even business was often a servant to community, and business leaders aspired to become trustees of various community institutions in education, religion, health and social service. It was a blissful childhood, and unlike Lord Phillips who stayed rooted in Sudbury, I left to migrate to UK, but luckily for me, my community was here too and many of my friends and neighbours migrated. Community is often a cushion against risk, a source of selfless advice and mutual support. Just as we flourished in Kenya, we are flourishing here in UK too. Despite all the wider environmental currents, it is a miracle that we have managed to preserve our community spirit in these dark, selfish and materialist times.
The biography of Lord Phillips is truly admirable – he was a successful solicitor, a board member of major companies like Dyson, a famous BBC broadcaster with a weekly audience of millions (Radio 2 – Legal Eagle) and latterly Chancellor of Essex University. He explained that every year, 20000 pages of new laws are made by parliament – with little capacity for enforcement, and creating more income for lawyers and narrow 'specialist' experts, who have lost fundamental concepts like duty, kindness, truth and community. He deeply understands the connection between law, business and ethics, and explains that moral progress, not material prosperity, should be the primary goal of any civilised society. My own three decades of research has been making this point in the fields of accounting and finance – they have become disconnected from wisdom and conscience. As to the criticality of 'moral' progress, the very concept of morality has been abandoned by experts, who are often 'positivist'.
Our tea conversation was a meeting across oceans and continents, but there was much similarity in our passion for a rooted, responsible and accountable finance, where leaders need to have a conscience, and be humble about their power and ready to serve society, not exploit it. In particular, we lamented the loss of community, and the need for a settled life where there is a physical sense of rootedness and loyalty, and a consciece to be fair and responsible. Lord Phillips read me a quote from the Quakers about their business philosophy, which has become lost but needs to be revived in these unequal times. They founded top businesses like Rowntree, Cadbury and Barclays, where ethics were deeply rooted. Employees are not labour or cost, but part of the business organisation and community, and need to be respected and rewarded fairly. Brand is firstly about honesty and reliability, and not about spin or fake marketing. That is truly what will be sustainable.
Feel free to share your thoughts on twitter @atulkshah