PROFESSOR ATUL K. SHAH www.atulkshah.co.uk
Globally renowned expert advisor and broadcaster on culture, accounting, finance, business ethics, holistic education and leadership
New Research Published in Top Academic Journal
In the last two decades, a significant number of breakthroughs in finance knowledge have come NOT from scientists or academics, but from Investigative Journalists who have taken great risks to expose frauds, deceit, corruption and inequality. However, this work is not acknowledged by the academy, precisely because it is not seen as 'scientifically rigorous'. Sadly, these breakthroughs also reveal how arrogant and ignorant the expert accounting and finance academy often are about truth and wisdom.
In this research paper published in the British Accounting Review, I review the work of Richard Brooks, an award-winning journalist who works for Private Eye and the International Consortium of Investigative Journalists, ICIJ. Brooks' recent book Beancounters – The triumph of the Accountants and how they broke Capitalism, provides shocking and jaw dropping revelations of the damage done by global Big 4 Accounting Firms – KPMG, PWC, EY and Deloitte. The themes he explores include money laundering, tax evasion, political corruption, fraud and professional negligence.
In my research article, which is available for free download on this link only for a limited period (upto February 2022), I analyse what the vast number of accounting and finance lecturers and researchers can learn from the work of pioneering investigative journalists. The lessons are both in terms of the character of academics and courage to speak truth to power, and the ways in which such subjects can be taught honestly and truthfully in the classroom to empower future students about the practices of accounting and finance.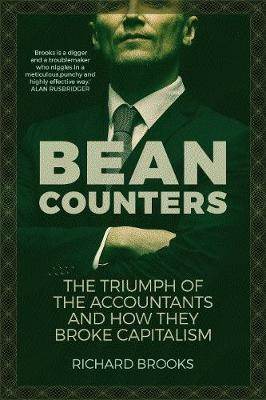 The research article is written in an accessible language and can be used for personal learning or group discussion and debate with undergraduate or postgraduate students. It can also help inspire further research on this significant and evolving topic which has the potential to really transform finance teaching towards sustainable ethics and professional integrity and responsibility.
Here is some early feedback on the article:
Very important and interesting research paper
Professor Christine Cooper, University of Edinburgh
This is a brilliantly original topic and BAR is an excellent journal. Well done for the research.
Prof Niamh Brennan, Distinguished Professor, University of Dublin
"As an investigative journalist, I'm immensely grateful for the way in which you have raised the profile of investigative journalism through this research — and explained why it matters. I hope that academics around the world will take note of your research and consider making greater use of our articles, books and programmes in the future, in order to help reform financial practice."
Ian Fraser, Award-winning author of Shredded – Inside RBS, The Bank that Broke Britain, www.ianfraser.org