PROFESSOR ATUL K. SHAH www.atulkshah.co.uk
Globally renowned expert advisor and broadcaster on culture, accounting, finance, business ethics, holistic education and leadership
Bhavik Haria & team Live in Concert at Colchester Arts Centre
WATCH PREVIEW VIDEO AT THE FOOT OF THE PAGE
December 2021
The prolific and highly versatile singer and creative artist Bhavik Haria and his team launched their new album 'Roots and Changes' at the Colchester Arts Centre on 5th December 2021. A truly diverse audience of over a hundred were mesmerized by the range of songs, known as bhajans in the Indian tradition, celebrating a variety of divine spirits like Shiva, Rama, Krishna, Ganesh, Mahavir and Sai Baba. The musical instruments were also unique for the fusion beats that had been created, and included the harmonium, tabla, dholak, banjo and saxophone, alongside the drums and keyboard. It was a very extravagant performance, lifting the audience after the darkness of the pandemic, and showing how music can be a vast resource for building communities of hope.
Here are some quotes from the audience:
The Roots and Changes concert by Bhavik Haria and his musicians at Colchester Arts Centre on Sunday was a feast for the ears. On a very cold British afternoon I was transported back to the warmth and sights and fragrance of a Gujarati afternoon by the lake in Jamnagar. All of the musicians are masters of their craft and the enjoyment with which they played was evident. Bhaviks singing was so lyrical and expressive that even though we speak different languages the meaning of the songs was clear. A truly memorable afternoon and one I hope to repeat before too long.
Julia Havis, Trustee, Colchester Arts Centre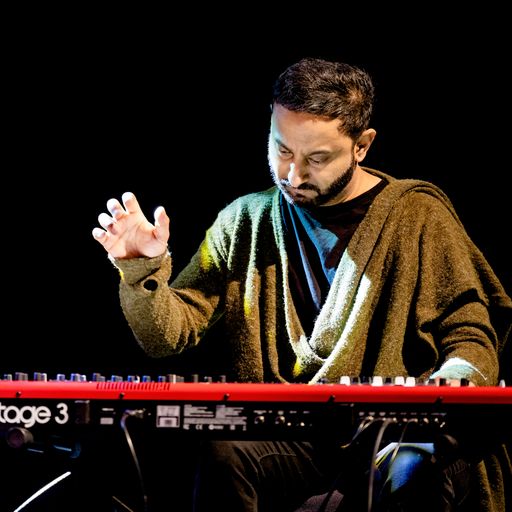 Bhavik Haria and his talented team of musicians inspired unequivocal joy when they brought Roots & Changes LIVE to Colchester on Sunday. His intertwining of traditional Indian ragas and contemporary Western music is ingenious. The performance was infectious; I found myself smiling throughout and felt so uplifted. Colchester Arts Centre provided the perfect setting – the sound filled the space and the atmosphere was one of positivity and peace. Bhavik's voice is soul-fulfilling and words are not enough to convey the impact his performance had on all of those present. It was brilliant.
Jaymini Nakum, Host organizer, Colchester Arts Centre Trustee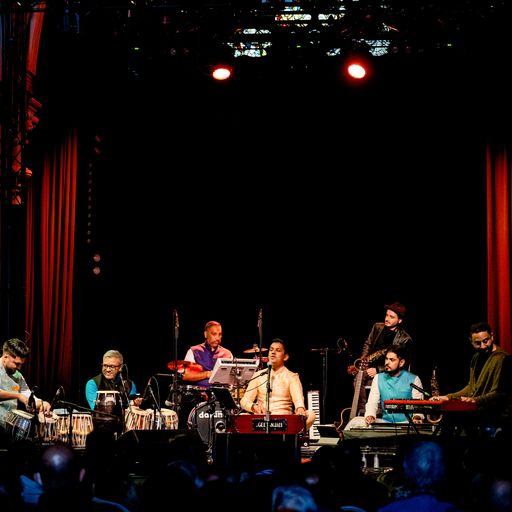 Bhavik Harias Roots & Changes project is so uplifting I felt as if I ended up in the rafters of the church he was playing in! Such a mix of heady sounds and colours emanated from the band in a free flowing, devotional, swirling, glorious sound. A rare talent indeed.
Anthony Roberts MBE, Director, Colchester Arts Centre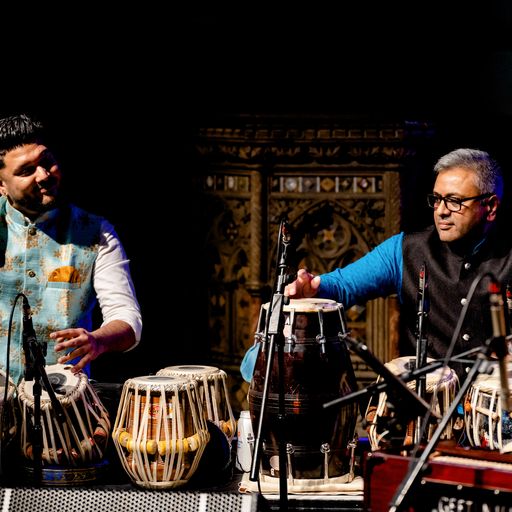 The musicians were superbly talented and the fusion of Indian and western influences was both natural and inspiring.  The vocal techniques were well blended with a range of instruments that led to textual variety and a plethora of tempos and moods.

Nigel Hildreth MBE, Chair, Colchester Arts Centre
"Bhavik's stunning presentation of much-loved bhajans combined with western musical styles was simply magical, carefully maintaining a heartfelt sense of bhakti throughout that audience members of our all backgrounds could relate to. The show was not only a mesmerisingly beautiful performance, but also an incredible example of how culture can be preserved and transmitted to future generations"
Thomas Awad, President, Cambridge University Hindu Students Society
Followers of my work know that as a social scientist, I am keen to promote ethical business and finance. In my work, I draw from the deep well of Indian Dharmic wisdom which is a key reason behind the vast entrepreneurial success of Indians all over the world. However, this pandemic has reminded us that nothing lasts, and money should not be hoarded but allowed to flow to good causes. To transform business leadership, the arts have a critical role to play to ensure that profit engineers must have hearts as well as minds and understand the need for sustainability and compassion towards all living beings.
Bhavik Haria is an artist and social entrepreneur who actively nourishes society through his leadership and creativity. He is a role model of generosity and humility, and his actions and character show what sustainable leadership can look like. He is always very inclusive and generous to organisers, volunteers, hosts and his musician team members. At the same time, Bhavik constantly tries to stretch himself and perform to a variety of audiences, and create new music, alongside the traditional. He gives mobility and continuity to the vast wisdom we have inherited from one of the most ancient and timeless cultures on the planet – India. His youthfulness and energy help society to retain this Indian inheritance and translate it to the challenges of modernity.
To me his work represents a unique investment opportunity for our business leaders. He will provide a timeless return on investment, and help pull young people to his performances. However, the work needs funding to travel far and wide, and it is our duty to respect the vast vision and leadership he is bringing to the arts. Unlike so much of modern art today, Bhaviks art has a clear purpose – to unite, to transform, to empower and uplift one and all.
Bhavik reflected:
Roots & Changes LIVE was a musical experiment creating a new contemporary sound, bringing together both traditional Indian and Western cultures, without losing our heritage. Musically directed by KayKay Chauhan, this was the first time we performed this concept – with a wide array of musicians and instruments from Saxophone, to Tablas to a full drum kit. We have been blown away by the response incredible feedback and are ever so grateful to Colchester Arts Centre for hosting this historic event.
Notes:
Bhavik Haria is planning a series of concerts across Leicester and London in February 2022. More details are to be released on www.bhavikharia.com soon.
Performers:
Bhavik Haria – Vocal; KayKay Chauhan – Keyboard and Music Director; Hiten Parmar – Benjo, Guitar and Melodica; Shri Gadhvi – Tabla; Harivadan Varsani – Tabla, Dholak and Percussions; Alpesh Sevani – Drums; Thomas Lumley – Saxophone Professor Atul K Shah,