PROFESSOR ATUL K. SHAH www.atulkshah.co.uk
Globally renowned expert advisor and broadcaster on culture, accounting, finance, business ethics, holistic education and leadership
November 2021
Net Zero Carbon targets after COP26 are forcing us to look anew at Economics and Finance. They have been at the forefront of the human attack on nature, and have led to the anthropocene. We are the species which have done irreversible damage to planet earth. Surely there must be something about our culture, behaviour and politics which has led to this? If this is so, can net zero technology change our mindsets, institutions and habits or do we need to do something more?
Oxford University's Said Business School have set up a unique global project on Faith and Impact Finance, led by Professor Alex Nicholls. On the advisory board, we have been discussing and debating the above issues for some time, from a variety of faith and cultural perspectives. It has been refreshing to hear how much traditional wisdoms can help in reforming science and culture.
In my upcoming keynote address on 22nd November, I will be sharing a vision of what needs to change and how this change can be manifest. My speech will embrace concepts like decolonising the curriculum, black lives matter, the trusteeship of nature and vegan economics. In particular, it will focus on the ethics and wisdom from the East which is largely ignored in the global neo-liberal finance and accounting curriculum. It will call for a revision of the very pardigm of finance and its academic and professional training.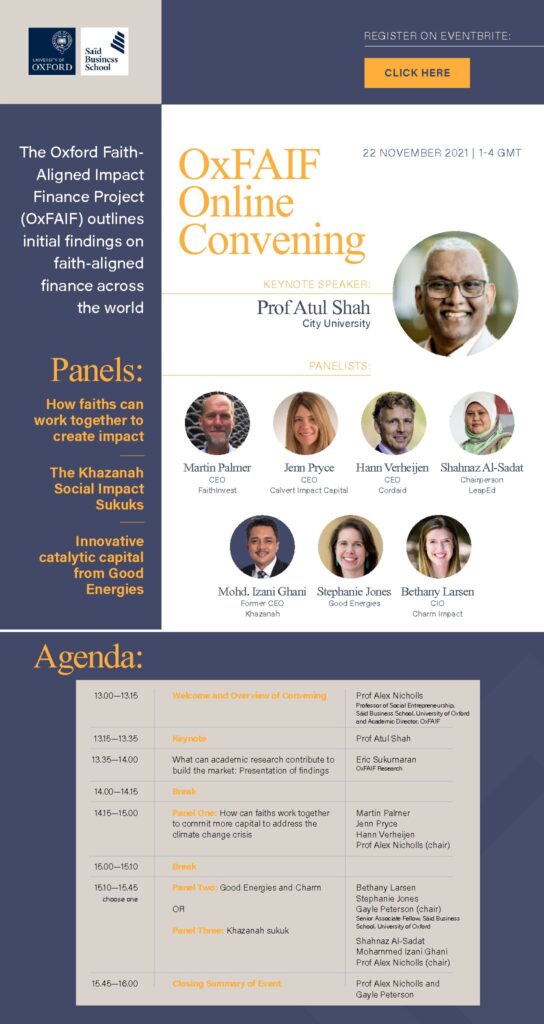 Full details of the programme and free login to the webinar are here. There will be practical case studies and workshops on impact finance from different cultures and countries with real life examples of how this is transforming society. It promises to be a stimulating day. Further research on this theme can be accessed here.
Last month I was interviewed in detail by the Diverse-City podcast for my work on Ethical Finance – you may listen to this here in full. Furthermore, there is a BBC Broadcast on this theme for Radio 4.